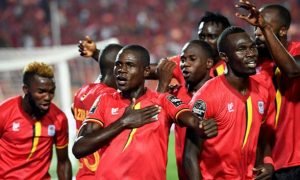 Omutendesi wa ttiimu y'eggwanga ey'omupiira ogw'ebigere, Milutin Micho Sredojevic, alangiridde ttiimu yabazannyi 33 okutandika okwetegekera empaka z'okusunsulamu amawanga ganaakiika mu mpaka za Africa Cup of Nations (AFCON)
Empaka za AFCON zakubaawo omwaka ogujja 2023 mu Ivory Coast.
Uganda mu mpaka zino yatekebwa mu kibinja F omuli Algeria, Niger ne Tanzania, era Uganda egenda kuggulawo n'okukyalira Algeria nga 4 omwezi ogujja ogwa June.
Yakuzaako Niger nga 8 era omwezi ogujja, mu kisaawe kya St Mary's e Kitende mu Uganda.
Ttiimu eyitiddwa eyingidde enkambi mu Cranes Pradise Hotel e Kisaasi.
Abamu kubazannyi abayitiddwa kuliko abakwasi ba goolo Charles Lukwago, Alionzi Nafian ne Bellagambi Giousue.
Abazannyi abalala kuliko Miya Farouk, Muzamiru Mutyaba, Khalid Aucho, Shaban Muhammad, Emmanuel Okwi, Enock Walusimbi, Isaac Muleme, Allan Kyambadde, Fahad Bayo, Allan Okello n'abalala.
Uganda erwana okuddamu okukiika mu mpaka za Africa Cup of Nations,oluvanyuma lw'okulemererwa okukiika mu mpaka ezisembyeyo ezaabadde e Cameroon.