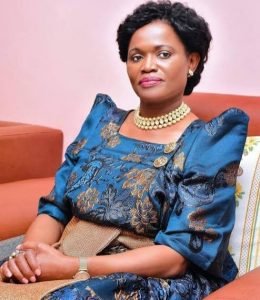 Bya Ddungu Davis
Nabagereka Sylvia Naginda atemye evvunike ku pulojekiti y'okuzimba ekizimbe ky'ekkanisa ya St. Stephens Church of Uganda esangibwa e Kireka.
Ekizimbe kino kigendereddwamu okufunamu ensimbi okukwasizaako enkulakulana y'ekkanisa.
Wategekeddwawo n'okusaba okwenjawulo mu kanisa eno, Nabagereka gyategerezza nti enkulakulana mu kitundu esinga kuva ku bakulembeze abembavu,era naasaba abakulisitaayo naabagaliza ekkanisa okukwasiza awamu mu kusondera omulimu gwa mukama guno.
Nabagereka agambye nti balina essuubi ddene ddala mu mulimu guno ogutongozeddwa.
Omusumba wekkanisa ya St. Stephens Church Kireka, Rev. Abel Mmere Ewooma Sserwanja, agambye nti ekizimbe kino kyakubaako amaduuka agasoba mu 100.
Agambye nti kyakuyambako okukendeeza ku bubbo obusoloozebwa mu bakulisitaayo buli sunday.
Wabaddewo n'okusonda ensimbi zekizimbe kino ekigenda okubbulwamu erinnya lya "Sarah Kisosonkole", okujjukira obuweereza bwe nga yeyawaayo ettaka okwazimbibwa ekkanisa eno eya St.Stephens church of Uganda.
Omulimu guno ogw'okusonda gukubiriziddwa president w'ekibiina kya bannamawulire abakulisitaayo ekya CHOUMA, Zambaali Bulasio Mukasa, n'omwawule w'ekanisa ye Kasubi eyawummula Rev. Erinest Mayanja.
Obukadde bwa shilling obusoba mu 111 bwebusondeddwa mu mpeke ne mukweyama.