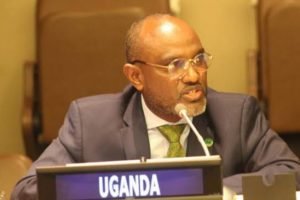 Uganda nate omulundi ogw'okubiri ogwomuddiringanywa esigadde nampawengwa, ku nsonga z'okukangavvula Russia olw'ebikolobero byekoze ku Ukraine.
Ensi ezirina obwa memba mu kibiina ky'amawanga amagatte mu kiro ekikeeseza olwaleero, zituuzizza ensisisnkano eyamangu ,Russia negobwa mu kitongole ekirondoola eddembe ly'obuntu ki United Nations Human Rights Council, bagiranga kutta bantu mu Ukraine mu lutalo lweyawakulayo mu february w'omwaka guno 2022.
Ekiteeso kino ekigoba Russia mu kibiina kino ,kyawomeddwamu omutwe United States of America.
Mu kalulu akakubiddwa mu kiro ekikeesezza olwaleero ,amawanga 93 gawagidde Russia egobwe kubwa memba mu kitongole ky'ensi yonna ekikola ku nsonga z'eddembe lyobuntu.
Amawanga 24 tegakisembye.
Amawanga 58 okuli Uganda ,Angola ,Cameroon ,Kenya namalala go ebyokulonda gabyesambye tegalaze ludda kwegagwa.
Kinnajjukirwa nti ekibiina kyamawanga amagatte era gyebuvuddeko bwekyali kikuba akalulu okussa nnatti enkakali ku Russia olw'okulumba Ukraine, era Uganda yeesulubabba okulonda kuno yali nnampawengwa.
Omubaka wa Uganda mu kibiina ky'amawanga amagatte Adonia Ayebare agenze ku mukutu gwe ogwa Twitter natendereza obwannampawengwa Uganda bweyoleseza ku nsonga zino, naagamba nti Uganda kyeyagala kye kya Russia okuteesa ne Ukraine ensonga zigonjoolwe.
Russia lye limu ku mawanga agalina obwa memba obwenkalakkalira mu United Nations security council erisoose okugobwa ku bwa memba mu kitongole ekirondoola eddembe ly'obuntu.
Amawanga amalala kuliko China,France,United Kingdom ne United States of America.