Democratic Republic of Congo (DRC) mu butongole yegasse ku mukago gw'amawanga g'obuvanjuba bwa Africa ogwa East African Community.
President wa DRC Felix Tshisekedi ne ssentebe w'omukago president Uhuru Kenyatta batadde omukono ku ndagaano eyingizza eggwanga lino mu mukago,nerifuuka memba omujjuvu.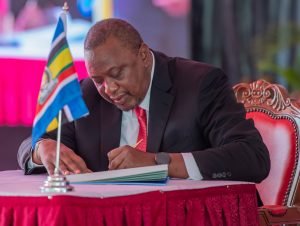 Omukolo gubadde mu maka gobwa president mu  kibuga Nairobi ekya Kenya ,ba president b'amawanga ga East Africa  gyebasisinkanye olwaleero, okuyingiza DRC mu EAC mu butongole.
Endagaano eno oluwedde okussaako omukono,  nebatongoza maapu entongole ey'omukago gwa East African community essaawa zibadde mukaaga n'eddakiika 40 (12:40pm).
Eriko amawanga musanvu okuli mawanga Tanzania, Kenya, Uganda, Rwanda ,Burundi ,South Sudan ne Democratic Republic of Congo.
Ssentebe w'omukago gwa East African community era president wa Kenya Uhuru Kenyatta ,agambye nti okwegatta kwa DRC ku mukago ,kigenda kutumbula ebyenfuna by'amawanga ga east Africa ,olwalatale k'eby'amaguzi akeyongedde okugaziwa.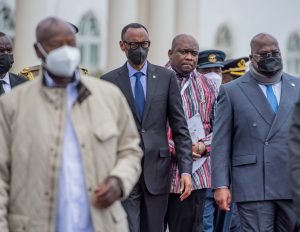 Mu nnaku ezijja ba minister b'amawanga gannamukago bakutandika ku nteekateeka ezokuyingiza DRCmu bitongole ebyenjawulo, ebikola omukago gwa East African Community.
Omukago guno gugenderera okutumbula eby'obusuubuzi,ebyenfuna n'embeera zabannansi.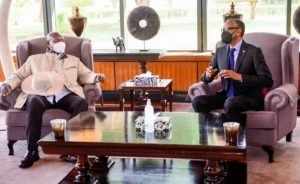 Omukago gwa East African Community gwatandika mu 1967 nga gulimu Uganda, Kenya me Tanzania, wabula guzze guyita mu kusoomozebwa okwa buli ngeri.
Gwayimiramu n'okumala emyaka okutuusa mu 2000 amawanga gannamukago lwegaasalawo okuguzza obuggya.